Geotechnical design is undertaken to complement wider studies and support operational planning. AG looks to work collaboratively to ensure the client's needs are front and foremost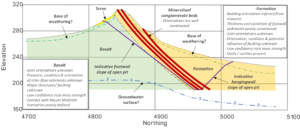 The basis of any geotechnical assessment is the engineering geology model or geotechnical model. This generally relies on geological, structural and hydrogeological data (from published literature, existing or current study work) combined with results of geotechnical investigations. Incorporating this data and understanding the uncertainties inherent within the various aspects is considered a fundamental and critical aspect of the design process. Material shear strengths are developed using available geotechnical data for the units within the engineering geology model.
Once the geotechnical model is formulated, the mechanisms controlling slope stability can be identified, and applicable geotechnical analyses can be undertaken. The importance of working with clients to select appropriate design acceptance criteria is recognised, as is ensuring that the results of the geotechnical assessment can be implemented and readily adopted by the study team.
Areas of expertise include:
Geotechnical assessment from scoping to feasibility study levels
Incorporation of resource definition data and QA/QC
Rock mass characterisation
Structural characterisation
Slope stability analysis and optimisation
Waste dump design
Rockfall analysis and mitigation
Hazard identification and risk assessment
Geotechnical assessment for mining infrastructure
Closure planning
Independent technical review